Thank you for your interest in opening a new agriculture program and FFA chapter in Ohio.
Agricultural Education is comprised of three equally-important components including the classroom/laboratory, Career-Technical Student Organization (FFA) and Supervised Agricultural Experience (SAE). The agriculture instructor serves as the classroom teacher, FFA advisor, and oversees student SAEs. Find more information about the agricultural education three-circle model here. It is important for each teacher to establish the best blend of the three circles for the specific program and community in which they teach.
Classroom/Laboratory: The classroom or laboratory is where students spend time during the school day. This circle should include interactive, engaging and student-led learning. Students use what they learn in this setting to be more effective in their SAEs. Additionally, the content taught in the classroom is directly related to the Career Development Events in which students may compete in the FFA.
SAE: The Supervised Agricultural Experience provides students an opportunity to apply what they learn in the classroom to real-life experiences. Students may own a business, work for an employer, volunteer, conduct agriscience research, and more. Students will likely become experts in their SAE areas, and therefore can be an asset in the classroom setting when discussing those topics. Additionally, students may choose to use their records from their SAEs to apply for FFA degrees and awards.
FFA: The FFA is the Career-Technical Student Organization that focuses on premier leadership, personal growth and career success. Students become better leaders and communicators when involved in FFA, which carries to their SAEs and the classroom. Additionally, students may be recognized for a variety of awards in the FFA based on their classroom and SAE experiences. 
Philosophy of Career-Technical Education
Career-Technical Education began in the early 1900s to formalize job preparation and was called Vocational Education. Throughout the 1960s, Vocational Education grew due to funding, and in 1970s was required for all students by law. Ohio was the first state in the nation to require availability of Vocational Education to all students. The term Vocational Education was later changed to Career-Technical Education to encompass the breadth of the system to train students for excellent careers in high demand industries. 
Career-Technical Education (CTE) requires authentic and hands-on learning in the classroom and laboratory, the opportunity to be involved in a Career-Technical Student Organization (CTSO), and applied work-based learning. CTE is funded in-part by the Perkins Act, and Ohio Revised Code states that it must be available to all students in grades 7-12 to prepare students for in-demand occupations. 
The criteria for Agricultural & Environmental Systems Career Field Pathway model development are:
Courses are designed to attract student enrollment. 
There are no courses labeled as "Intro To" or "Principles of." There are no exploratory courses and all offer concrete knowledge and skills based on the A&E Systems Content Standards. 
The Courses are designed to fit in a comprehensive middle and high school model typically offering 40-50 minutes per day (120-150 hours/year) as well as a career center model typically offering 120-150 minutes per day (360-450 hours/year). 
There are no prerequisite course requirements. 
Agriculture, Food and Natural Resources (010105) is the first course in each Career Field. It is designed for middle school students in addition to freshman and is designated in the chart with (1). 
Course structure must facilitate testing using CTE Technical tests. 
Each Pathway has a "first course in the pathway" (2). 
The Agriculture, Food and Natural Resources course and the first course in each pathway are designed for middle school students in addition to freshman and sophomores. 
Pathway course structure should align with postsecondary programs for enhancing successful articulation. 
All courses will have a 120-hour minimum and a 280-hour maximum. 
Programs must be comprised of a minimum of four courses from the pathway courses. Additional courses can come from the pathway. The Capstone course must be taught in addition to the four course minimum. There is no maximum on the number of courses. 
Within the Agricultural & Environmental Systems career field, there are six pathways that include:

A0: Agribusiness & Production Systems
A1: Industrial Power Technology
A2: Animal Science & Management
A3: Agriculture, Food & Natural Resources Bioscience
A5: Horticulture
A6: Natural Resource Management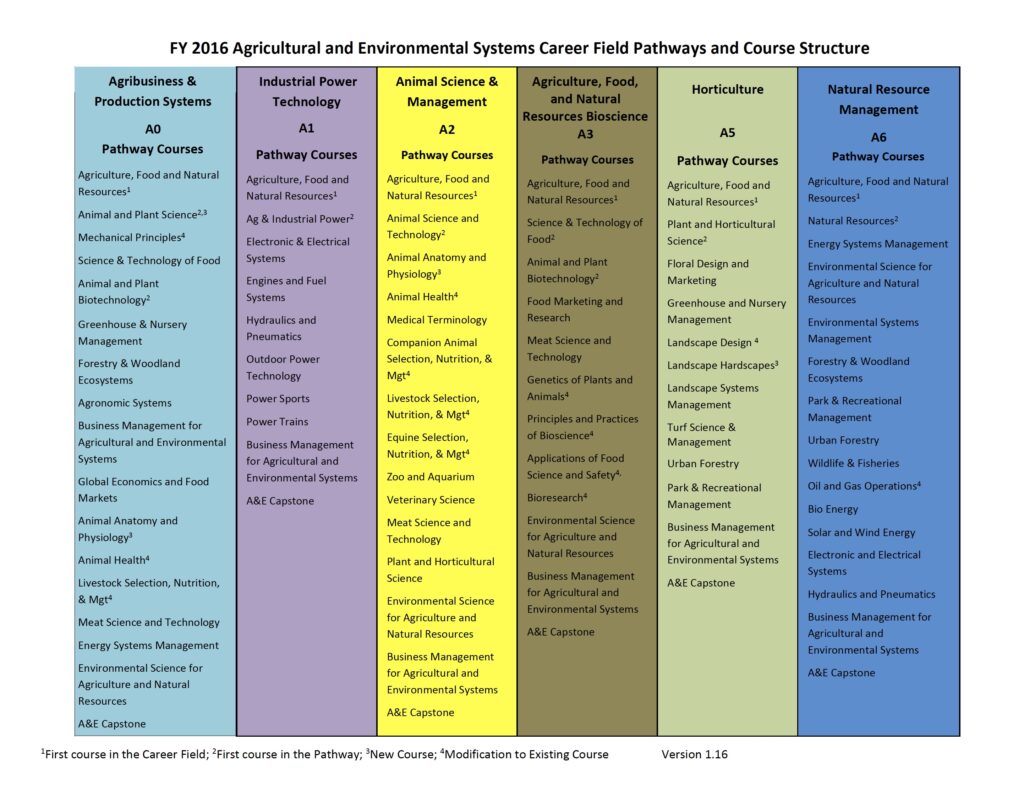 Next Steps
Classroom/Laboratory
Review the course titles and descriptions and content standards to be taught in Agricultural Education. Work with the school administration and advisory committee to determine the best pathway and courses that will meet the students' needs.
Work with the administration to submit a CTE-26 application to the Office of Career-Technical Education no later than March 1 prior to the school year in which the program will be offered.
SAE
Work with your advisory committee to review the Work Based Learning guidelines and discuss local opportunities to pursue for the students in the Ag Ed program.
Use the SAE for All website to gain a better understanding of SAE, the importance of SAE, and how to implement SAE for each student in the program.
While Ohio does not require a specific record keeping software, AET is widely recognized as the Ag Ed choice across the nation for SAE record keeping. Consider subscribing to AET for all students to keep accurate records and access the library of AET resources for teachers and students.
FFA
Email Brenda Correll to indicate your interest in chartering a new FFA chapter.
Review the Ohio FFA website to learn more about the Career-Technical Student Organization for Agricultural Education, the opportunities for students, and how you can serve your students as an FFA advisor.