Meet the 2017-18 Agriscience Interns!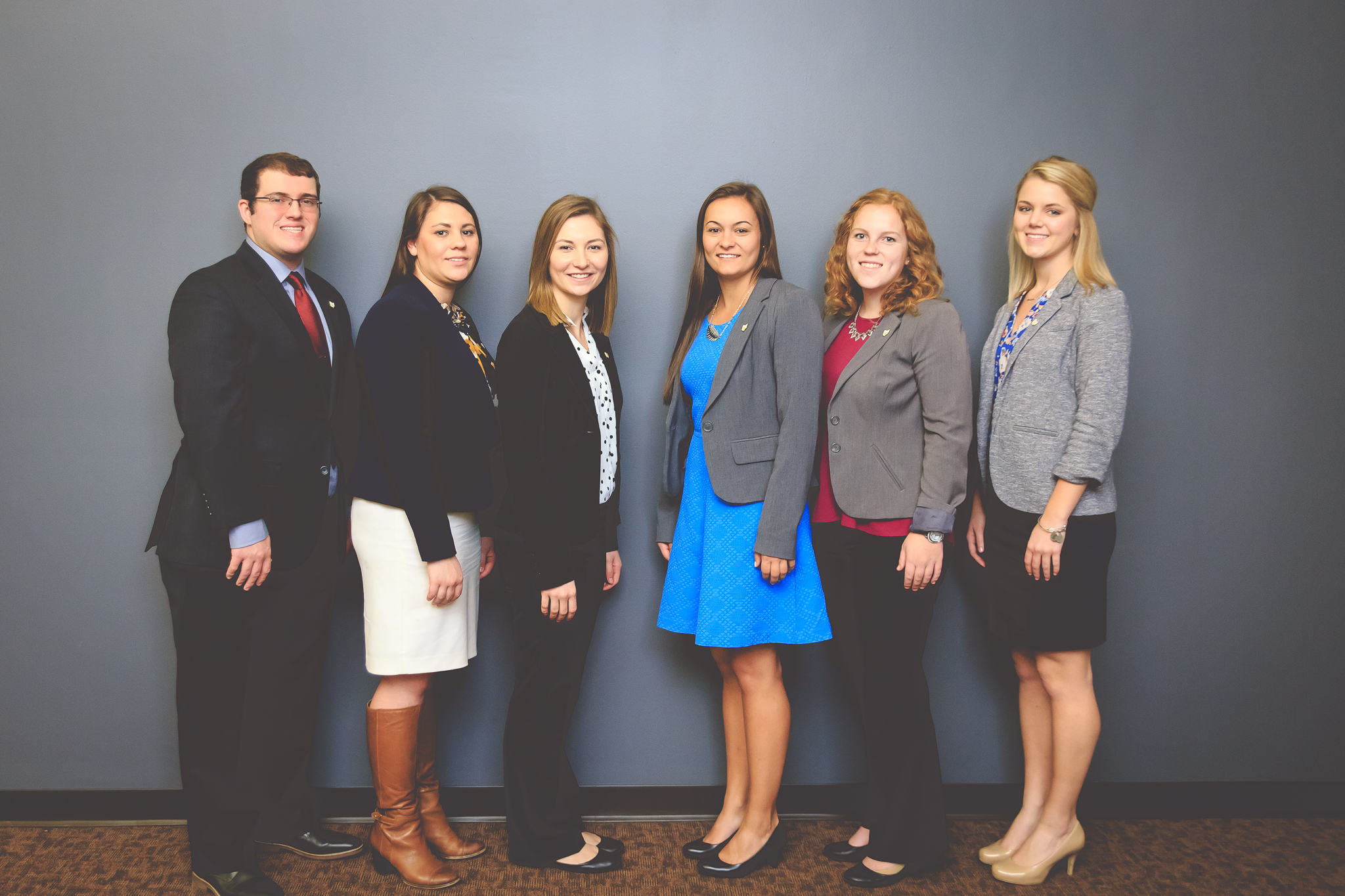 Agriscience Interns:
Cody, Laura, Sara, Ellyse, Frances, Elizabeth
Cody McClain – cmcclain@ohioffa.org
Cody McClain is a graduate of Upper Sandusky High School and grew up on a grain production farm. His first year of college was completed at Ohio State ATI where worked as a learning laboratory tutor and served as vice president of Collegiate FFA.. He is currently a second year student at The Ohio State University, Columbus campus, majoring AgriScience Education and minoring in agricultural systems management.  At the Columbus campus, he is working as a research assistant in the Department of Agricultural Communication, Education, and Leadership, serving as the treasurer of Agricultural Education Society and ambassador for the College of Food, Agricultural, and Environmental Sciences. His passion for agriculture merged with education, which lead him to pursuing a career in teaching agricultural sciences. He believes the Agriscience Education Internship will provide him the opportunity to learn more about agricultural education and better prepare himself for the classroom. Cody hopes to share knowledge and skills and instill passion and enthusiasm in the lives of students through agricultural education and FFA involvement


Elizabeth Landis – elandis@ohioffa.org
Elizabeth Landis is a first-year student studying Agriscience Education at The Ohio State University. She graduated from Anna High School where she was actively involved in the FFA. Elizabeth did not grow up on a farm, but has always wanted to learn more about the agriculture industry. Agricultural education at her school has provided Elizabeth with the opportunity to do just that. Seeing the growth and development within herself and her classmates inspired Elizabeth to pursue a career as a teacher of agriculture. As a college undergraduate, she hopes to gain the most experience possible to prepare for her career. She is involved in several student organizations, a scholars program, and has studied abroad. Elizabeth realizes how important agricultural education is to students, communities, and the industry. She is excited to become a teacher and give students the opportunities she received as an FFA member.
Ellyse Shafer – eshafer@ohioffa.org
Ellyse Shafer, graduate of Clear Fork Valley High School in Bellville, Ohio, is in her second year of studies at The Ohio State University at the Columbus campus. There, she is majoring in Agriscience Education with the intent to remain in the state of Ohio to teach agriculture upon graduation. On campus, she is involved in Sigma Alpha Professional Agricultural Sorority, Agricultural Education Society, and Alpha Zeta Partners Agricultural Honorary. Her interest in agriculture stems from her active involvement in the Richland County 4-H program and the Clear Fork Valley FFA chapter. In her free time, she loves to return to the family Quarter Horse farm and travel around the state attending horse shows sanctioned by the International Barrel Racing Association. In her future career as an agricultural educator, she mostly looks forward to the individual impact that she hopes to make on her students' lives with their understanding of agriculture and future career choices.
Frances Nicol – fnicol@ohioffa.org
Frances Nicol is a currently third year at The Ohio State University, Columbus campus, from Plain City, Ohio, studying Agriscience Education. Frances's love for agriculture began at a young age as she grew up her family's 3rd generation grain and dairy beef farm. She graduated from Fairbanks High School and was actively involved in FFA and 4-H. The hands on experiences in and out of the classroom inspired her to pursue a career in teaching agriculture. At Ohio State, she is heavily involved in several student organizations such as Agricultural Education Society, Agriculture Communicators of Tomorrow, and Towers Agricultural Honorary. As a second year intern, Frances has learned so much about agricultural education and believed she is better prepared for the classroom. She is excited to graduate next spring and begin working with her students and teaching the future generations of agriculturalists.
Laura Swinehart – lswinehart@ohioffa.org
Laura Swinehart is currently a first year student at Wilmington College. She is from Lancaster, Ohio and was a FFA member of the Fairfield Union FFA Chapter for four years. She is studying Agricultural Business and Education. At Wilmington she is involved with the Varsity Swim Team and Aggies. Her passion for agriculture and helping others grow is the reason for her choice to become a teacher. She also wants to have an impact on those in the classroom just like her instructors had upon her. She was raised on a small hobby farm where her family raised sheep where her love for agriculture formed. She was involved with 4-H for thirteen years where she took a variety of projects where her passion for agriculture took off. Once she entered high school she wanted to become an agriculture instructor and her passion for agriculture grew through gaining knowledge about the industry. She is excited to graduate in three years and be in the classroom.
Sara Thwaits – sthwaits@ohioffa.org
Sara Thwaits is currently a second-year student at The Ohio State University. Sara has spent part of her education at OSU ATI and will transfer to the Columbus campus in the fall of 2017. As a college student, Sara is very active within her campus. She serves as a Student Ambassador and a member of the Homecoming Court. Sara is a 2015 graduate of Marion Local High School in Maria Stein, Ohio. In high school, Sara was very active within her FFA chapter which is where she developed her passion for agriculture. Her passion for agriculture has inspired her to pursue a career in Agriscience Education. In her future, Sara hopes to instill the same passion of agriculture she has within the next generation of students and inspire them to become the future leaders of the agricultural industry.