The Policy Academy – What's the big deal?
By Elizabeth Landis and Laura Swinehart
This past July, the Ohio Corn and Wheat Growers Association took a few college students on a trip to Washington D.C. for their Collegiate Policy Academy  program. This program is designed for college students studying agriculture to experience agricultural policy at the national level and to interact with policy makers, OCW members, and farmers. Laura Swinehart and I had the opportunity to become members of the CPA program through our Agriscience Internship with Ohio FFA.
The Collegiate Policy Academy was packed full of great experiences for its students. Our focus during the trip was mostly agricultural policy, but we got to experience the rich history of our capital, as well. One of the first items on the itinerary was a tour of the Capitol Building where we learned about the building's details and how it has changed over the years. We also went on a tour later in the week and got to see many of the monuments that represent important people and events in American history. Some of my favorite monuments were the Vietnam and Korean War Memorials, the Lincoln Memorial, the Washington Monument, and the WWII Memorial. Getting to experience these sites was very moving and made my time in Washington D.C. very meaningful.
Along with experiencing some of the history of our country, we got to learn a lot about current issues and events happening in the capital concerning agriculture. Some of these issues include the Farm Bill, ethanol, and trade policies. My favorite part of the trip was when the CPA members got to lobby on capitol hill with the OCW members. The individuals on my team during the Hill visits were Ellen Gilliland (Ohio Corn and Wheat Project Manager), Patty Mann ( a farmer from Shelby County), and Charlee Prushing (CPA member). We met with the aids of three different congressmen and expressed our thoughts, opinions, and experiences with the three issues mentioned earlier. We also got to sit in on Corn Congress which was a gathering of several states' corn and wheat associations. This was a business meeting conducted on behalf of the National Corn Growers Association. Another part of Corn Congress is action team meetings. I sat in on the "Engaging Members" meeting where they talked about their grassroots movement and how to better serve members. Another interesting thing that the CPA members got to participate in was visiting the Mexican Cultural Institute where we met with Luis Martinez Senties with the Mexican Embassy. He spoke with us about NAFTA and gave us some insight about the issue.
Along with many of the professional events throughout the week, the CPA members also attended many lunches and dinners where we had networking opportunities. One night, we had dinner with the other states' corn and wheat members. I had the chance to talk to Nebraska's CPA members and ask them about their education, their CPA program, and their career goals. The Ohio CPA group met with Craig Berning (OSU graduate), who now works for the National Association of Wheat Growers in Washington D.C. He shared with us about NAWG and the issues they are also facing at the national level. Another night, the whole OCW group happened to meet Senator Ted Cruz during our dinner at the Capitol Grille. These meals provided great opportunities to speak with the farmers and OCW board members about the issues on a more personal level. The one-on-one conversations with the farmers are where I learned the most.
The entire trip was an absolutely great experience. I learned a lot about policy within agriculture and made many great connections with people. As a future ag teacher, I hope to include agricultural issues in my classroom, so having an experience like this one under my belt is going to be very useful now and later in my career. I would highly recommend anyone interested in agriculture to apply for the Collegiate Policy Academy and I am very thankful that Ohio Corn and Wheat has provided me with this opportunity.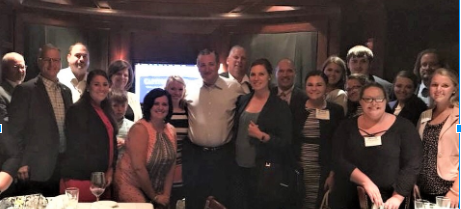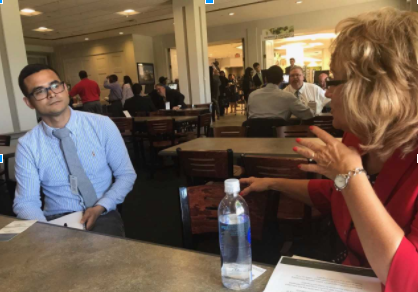 Now you may be asking yourself how will these experiences provided to Elizabeth and I incorporate to our future classrooms?
This will allow us to give our students a deeper understanding of the steps different organizations take to get their voices heard by their politicians. We both will be able to talk to our students about what our experience with lobbying was and will be better able explain the process.

We also will be able to give our students a better understanding of the corn industry and what happens to the corn we, as a country, produce. During the time we spent in Washington D.C. we had the opportunity to talk with growers and industry leaders about what is to come in future years and what is affecting them right now.

Within meeting with the various groups during CPA we and an opportunity to talk with the chief agricultural trade personnel for Mexico. We learned within this meeting how important trade with Mexico is and how vital it is that we keep trade intact with them.

Lastly, we had a great opportunity to network. This will be awesome for later if we have students who had special interests and wants to learn more about that special interest. We can turn to our contacts to help this said students succeed.