By Mr. Jeremy Grove
"Agriculture is how cultures interact with each other…" On my first day teaching in Cleveland, I asked what I thought would be an easy question.
My Agricultural Education journey started at Logan High School (LHS) where I enrolled in the agriculture classes simply to participate in the Envirothon competition. The Chief Logan FFA chapter hosted a middle school competition that I absolutely loved, so I thought that I would try it in high school. That first year was a total bust and I was more concerned with my academic classes, so I shared with my teacher that I would be leaving the program after my freshman year. Janice Wolfinger convinced me to stick to it for one more year. When your Ag Teacher tells you to do something because they believe in you, you listen. The next eight years led to me serving as an Ohio FFA President, graduating from The Ohio State University and then returned to teach at LHS for two years.
In December 2013 I received a call from the Ohio Department of Education about starting a new program in Cleveland. I laughed it off and thought to myself, I have never been to Cleveland and have no desire to ever visit. The interested school is in the poorest congressional district in Ohio and is in one of the greatest food disparities in the state. The life expectancy is 20 years lower in this neighborhood than communities 10 miles away. Long story short, that following May I interviewed and took on the challenge to open a new Agribusiness program at East Technical High School.
What is agriculture? I thought this would be an easy answer, expecting cows, sows, and plows. Out of 30 students, I did not get my expected answer. I was blown away and immediately started questioning my decision to move my entire life to The Land. After two months of not getting anywhere, sometimes crying out to the Lord asking what I needed to do to reach these students. "We have always been immersed in your culture, may you for once be immersed in ours." This quote is from Moana: Behind the Scenes and it exemplified the realization I had during my third month teaching there.
I wanted to force Agricultural Education and FFA on my students because it is good for them and it was good for me. Agri-"culture" is a totally different culture than what these students experience each and every day. Why would they listen to this random guy who moved into the city to teach them about something they've never seen or heard? Taking Stephen Covey's habit, "Seek first to understand, then to be understood," as my new mantra, I quickly saw how everything would begin to transform.
The first year, we had 30 students, and by the third year we were approaching 90. Students quickly began to enroll and were placed on waiting lists because classes were getting full. They found that they could learn more about science and math in this class than they could in other classes because of the application. We finally started to see students wanting to attend Ohio and National FFA Conventions, FFA Camp, and after school activities. Many of my students have called me their "white dad," a title I never thought I would carry with honor, but they sure are proud to know they have someone who cares about them. That's what has grown the program and overall student engagement, someone who cares.
FFA Camp has been one of the best experiences for students from Cleveland. Although it was challenging to finally get students to step out of their neighborhoods and into the woods, they now ask on a monthly basis, "When are we going back to camp?" The idea of letting all of the stresses of their lives go, putting the cell phone down, and just being a kid for once is worth it all. Martin (2015) describes that 83% of urban students experience at least one traumatic experience including shootings and stabbings in their childhood. Their childhood will always be scarred with this, with no real healing. All of stresses are near forgotten while at FFA Camp and they become all new people, until we return home.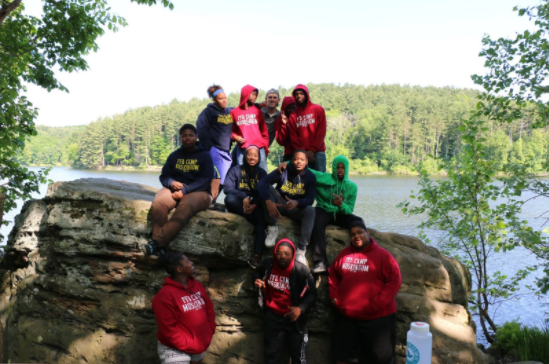 Cleveland is so totally different than any other school district I've seen. Student based budgeting limits administration from adding new electives, which makes CTE pathways the electives where students change their schedules throughout the entire year, nearly whenever they want. All schools are open enrollment, allowing students to be at East Tech on Friday and at a new school on Monday. These differences provide challenges in retention of students and state compliance.
Looking back, I have found that the response students provided that first day has been what some would call prophetic. Agriculture is how cultures interact with one another, and in this case, it is so true. It is through agriculture that the culture of east side Cleveland can interact with a farmer from western Ohio, a group of students from southeastern Ohio, or from industry representatives from across the United States. Although the cultures of rural communities and urban neighborhoods are starkly different, the one thing that ties them together is agriculture. It's just a matter of taking a step into a new world and being open to develop a relationship with someone.
Jeremy M. Grove
Former Agricultural Educator; East Technical High School & Logan High School
Career Technical Education Program Manager; Cleveland Metropolitan School District
References
Martin, K. (2015, December 11). Trauma in the American Urban Classroom. Retrieved from https://edwp.educ.msu.edu/green-and-write/2015/trauma-in-the-american-urban-classroom/