10 Reasons Why You Should Attend FFA Camp Muskingum
By: Ellyse Shafer, Ohio FFA Agriscience Intern
Often referred to as "The Happiest Place on Earth," FFA Camp Muskingum is a unique place that Ohio FFA members have the privilege to visit. Nestled on the shores of Leesville Lake in Carrollton, Ohio, FFA Camp allows members to escape for the week, developing valuable leadership, communication, and networking skills. Here are just a few more specific reasons why FFA members from across Ohio should consider registering for a session this summer:
1." Oh! The Places You'll Go!"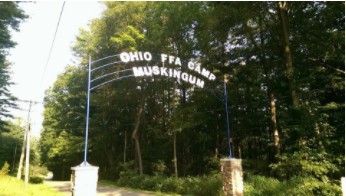 This year, Ohio FFA Camp Muskingum is celebrating 75 years with a Dr. Seuss theme. It is an exciting time for everyone involved in camp's operations. Camp will be sharing a little bit of its history, or where it's been, and looking forward to the future, the places it will go, and the places you can go as a member of the National FFA Organization!
2.It's an escape from everyday life at home.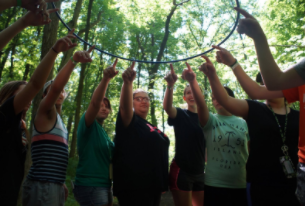 Camp life is a life of its own. The best way to tackle camp life it to dive in head-first and be willing to participate in all of the activities that are planned out just for you. With no cell phone service, it's easy to ignore the nagging from your parents for a whole five days and really focus on the people you are around. You will have opportunities to develop friendships and begin that network of connections in the agricultural industry, without even knowing it!
3.Reflecting during Campfires every night.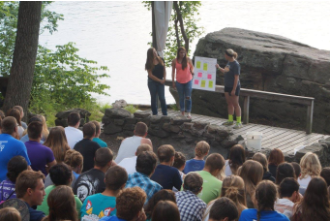 After each long, fun day everyone gathers down at Bluegill Rock to look back on the day's lessons and blessings. This is a time to be serious, and really self-reflect on how your time at camp is transforming your overall FFA experience. And just remember, the connections you make with other members, the State Officers, and other Ag Advisors during the week will be something that you can take with you when you leave. "Today was good. Today was fun. Tomorrow is another one."
4.The Kitchen Mamas make great food.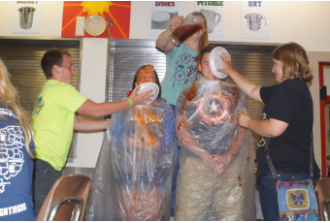 This isn't any high school lunchroom. The Kitchen Mamas have experienced cooks who work their tails off to put food on the table for hundreds of campers every week. And let me tell ya, they don't disappoint. Also, remember that leftovers make some pretty awesome ORT pies!
5.There is so much to do!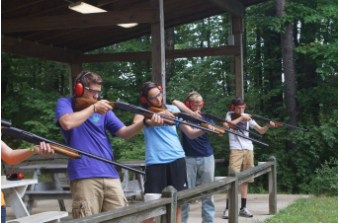 There are so many possibilities at FFA Camp. During free time, you can hit the lake in a kayak, canoe, motorboat, or just swim; you can visit the archery, shotgun, and rifle ranges; paintball is returning this year; the basketball, tennis, and volleyball courts will be open (unless there are tournaments); and there are always things to do on the lower porch. Seniors and grads will also hit the high ropes course on Tuesdays.
6.Tournaments are the real deal.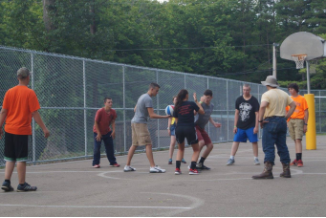 It's go time. In order to win points for your camp chapter, it's important to sign up for, show up for, and win the different tournament games offered throughout the week. The important thing is to not forfeit any possible points, so encourage your camp chapter members to step out of their comfort zones and participate on different teams!
7.Leesville Lake is beautiful.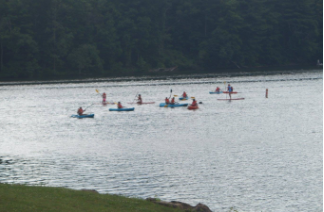 There's really no place quite like camp. Every day, you'll be blessed with a beautiful view of the early morning steam rolling off of the warm lake water. If you're brave, you'll even wake up extra early every morning to do the Polar Bear Dive. You'll also have the opportunity to take your swim test in order to swim or take kayaks and canoes out during free time. But don't worry, you don't need the wristband to participate in Thursday's water carnival.
8.There is a new facility!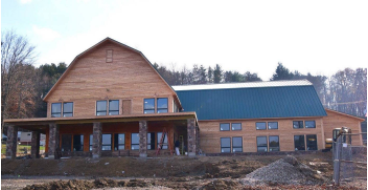 For those of you who attended camp last year, the hole in the ground is gone! The construction is done! We now have a brand-spankin' new, GORGEOUS facility. This facility will house what used to be up in the Nature Center. It also has an outdoor amphitheater, and enough room inside to watch the talent show while sitting in CHAIRS.
9.Dances, need I say more?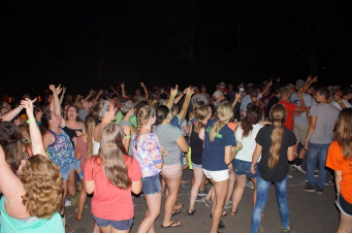 A favorite of avid FFA campers, the dances are always nights to remember. These aren't your a-typical high school dances. Get ready for the parking lot party of the summer- full of line dances, slow dances, country dances, and taking any of your (appropriate) song requests. Get ready to get your boogie on, but just don't forget to dress for the weather!
10.Everlasting Friendships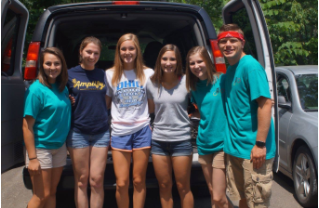 You will meet some lifelong friends during your time at camp. After being forced to interact with the same group of people for an entire week, you'll create friendships that will only blossom further as you continue your FFA career. Whether it be running into them at CDE contests, State and National Conventions, or at other county fairs throughout the summer, it's probable that you will run into and catch up with those friends made at camp.  
Encourage your advisor to take a group of members to one of the five General Summer Camp sessions, or Ohio Leadership Camp, which are offered throughout the summer. To register, visit the Ohio FFA website, ohioffa.org, and click on the link for camp! http://ohioffa.org/camp/