By: Brittany Heigley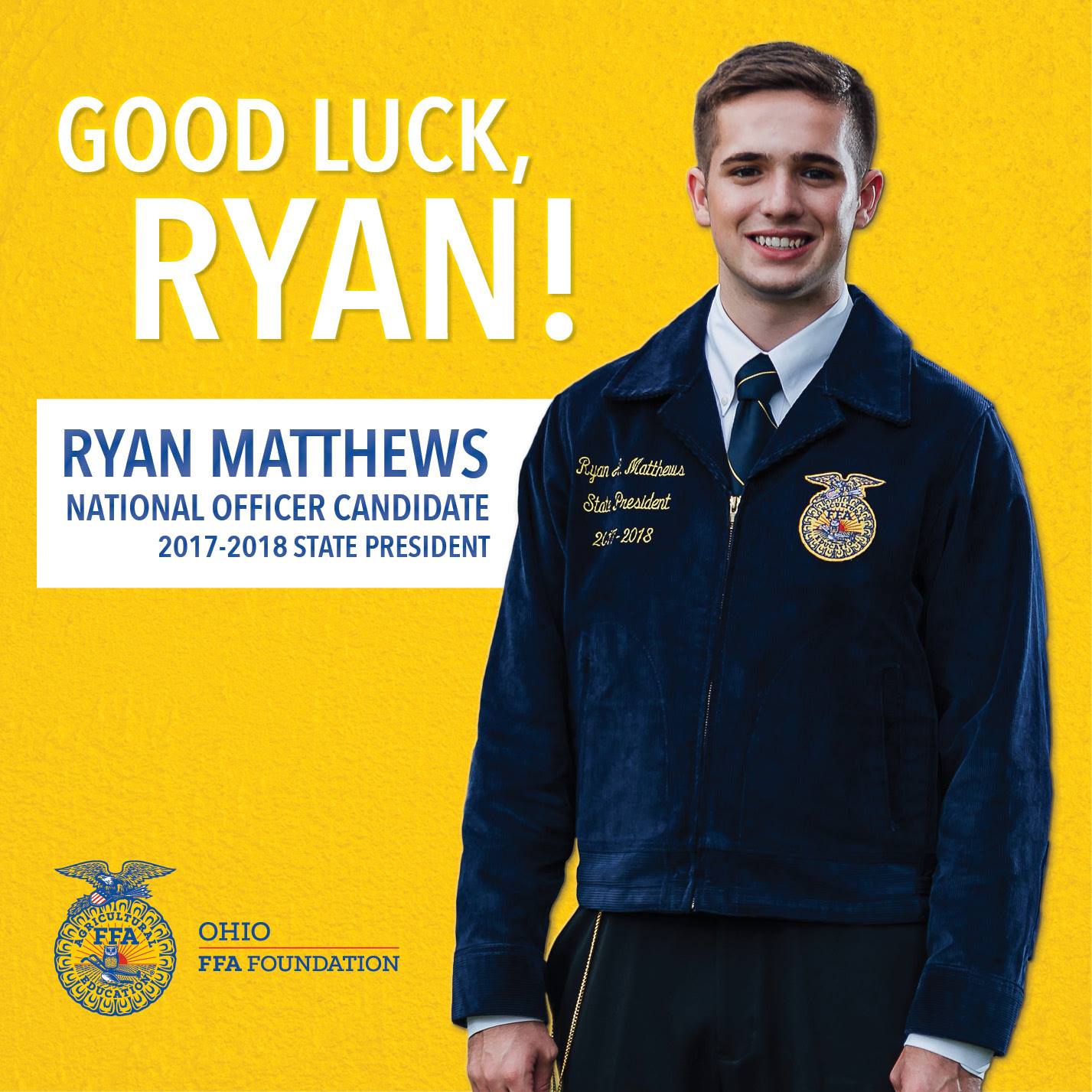 Every year at National Convention, six individuals are selected to serve on the National FFA Officer Team. This team works on matters of policy, long term-strategy, and fiscal oversight of the National FFA Organization. They also represent nearly 670,000 FFA members from all 50 states in the U.S, Puerto Rico, and the U.S Virgin Islands. This year, our very own 2017-2018 Ohio FFA President, Ryan Matthews, is competing for a spot on the National FFA Officer Team! Below are some insights from Ryan and some advice for any current FFA members!
Q: A few things about you. (Ex. Year in college, where you're attending, major, career goals)
A: I am currently a sophomore at Ohio State studying agricultural communication and political science. Right now, my future aspirations are to either attend law school or end up working in legislation.
Q: What was your favorite thing about serving Ohio FFA?
A: Sharing the little moments with FFA members. Whether it was a conversation during a chapter visit, talking about their aspirations at a leadership night, or hanging at FFA Camp. It's the little moments in life that can help define our journey and truly make the biggest difference on ourselves and those around us. And it's the little moments I had in the blue jacket that lead me to where I am today.
Q: What were your SAE projects and how did they help you grow as an individual? How did they help prepare you for the future?
A: My biggest SAE was my combination of home/community development and market hogs. Living in the city limits and wanting to show hogs, I needed to a place to keep them. Luckily, my chapter owned an old storage barn that my advisor allowed me to transform. With the big picture of one raising my own hogs in there and two making sure it was available for future students to give them an opportunity to have an SAE. Throughout my experience, my other SAEs include lawn care and agricultural education.
Q: Why do you want to serve as a National FFA officer?
A: There are many reasons I want to serve as a national officer, but the biggest reason is to pay it forward. I want to help show students that anything is possible and that no matter where they come from or what their past is that they have a place in this organization. Whether it's a leadership workshop, a speech or another event national officer have a chance to make an impact on those around them and I would love that opportunity.
Q: Do you have any advice for current FFA members who may want to try something new within the FFA? (Ex. Run for office, participate in a new CDE, try a new SAE project)
A: Just go for it! Only two things can happen every time we try something new, we either succeed or grow from it. You may fail at times. Personally, I did a lot when it came to some of the CDEs I did or even running for chapter office the first time, but I grew from each experience. You should find what you are passionate about in this organization and put in the time and effort. No matter what it is. Don't let time pass you by in this blue jacket, step out and step up to new challenges because one day soon you will have to hang it up for good.
On behalf of Ohio FFA, thank you for your years of service to the organization, and good luck on the National level Ryan!