Submitted by Zane Trace FFA Chapter on February 22, 2017
For the 12th year in a row the Zane Trace FFA Chapter held a strawberry sale during the month of February to raise money for one of the Ohio FFA's official charities – CROP/CWS.  On February 14th students were visited by Andrew Gifford, Ohio's director for CROP/CWS, who explained the work that the organization does in the United States and around the world to promote sustainable agriculture, clean water and disaster relief efforts.  Students then sold strawberries over the next two weeks to raise funds for CROP/CWS. The strawberries arrived on March 16th and a total of 550 flats were delivered to customers. Because of the efforts of the FFA members, a donation of $1,000 will be made to CROP/CWS and students will be able to assemble six clean up buckets with additional funds raised from the sale.  The Zane Trace FFA chapter is thankful to everyone who ordered berries and helped our chapter put the "living to serve" part of our motto into action.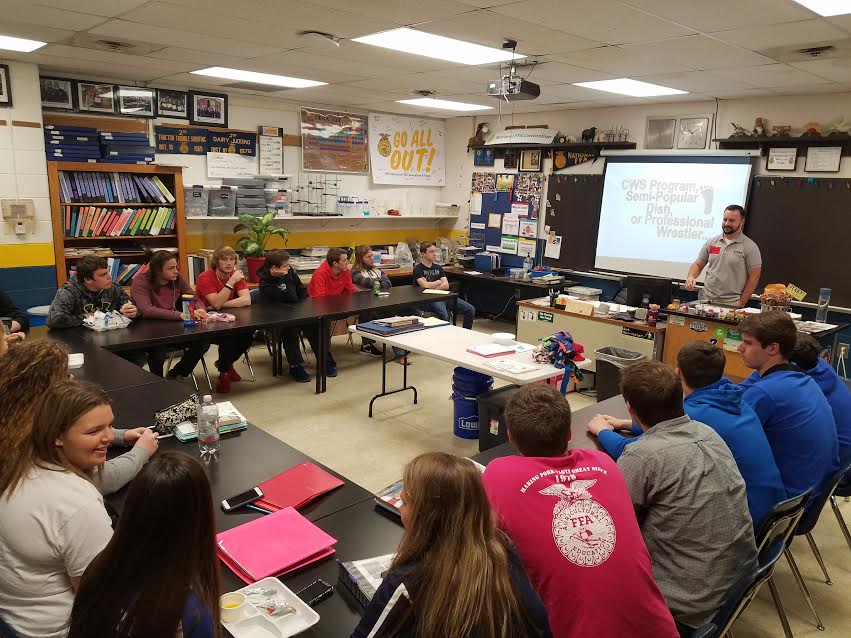 Picture: Andrew Gifford of CROP/CWS Ohio speaks to members of the Zane Trace FFA to kick off their annual strawberry sale charity fundraiser.  The chapter raised enough money to make a $1,000 donation to CROP and purchase $500 worth of supplies to assemble clean up buckets for disaster relief.