Submitted by Zane Trace FFA Chapter on March 12, 2017
On Thursday, March 9th, five members of the Zane Trace FFA Chapter traveled to the Ohio Statehouse to participate in the Ohio CTE Showcase in the Statehouse Atrium. During the event the students set up a display highlighting the activities in the food science department and interacted with Senators and Representatives along with administrators and students from other CTE programs around Ohio.  The members answered questions about the food science program and handed out samples of food products they had made during the current school year through their classroom and lab activities.  These included maple syrup, protein bars and whole grain granola. The students enjoyed a catered lunch and tours of the statehouse during the event.  They also received an invitation to visit the office of Senate President Pro Tempore, Bob Peterson, who visited their booth earlier in the day. The students who participated include seniors Jacob Ratcliff and Kylie Lathey along with sophomores Katie Shelby, Gabby Wycinski and Cody Clark.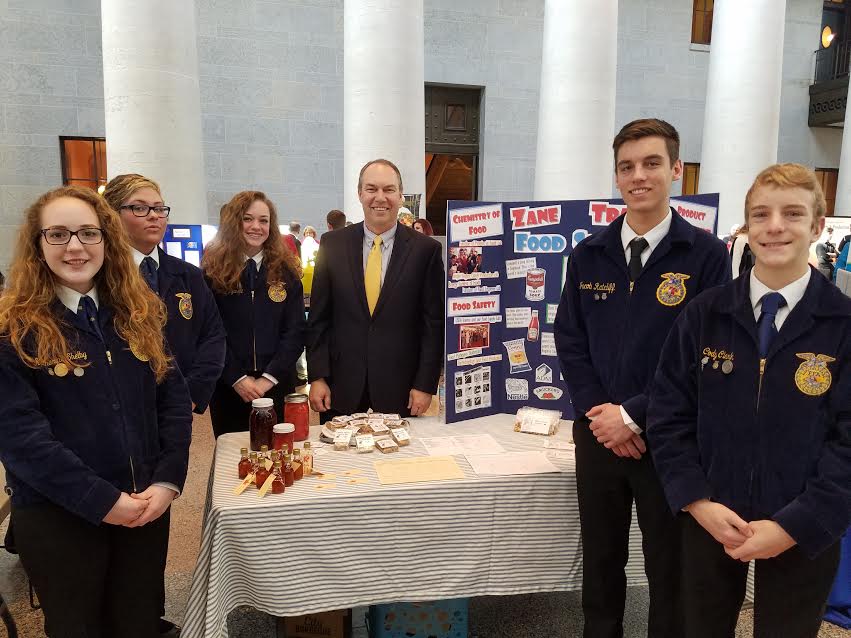 Pictured: Zane Trace FFA members Cody Clark, Gabby Wycinski, Jacob Ratcliff, Kylie Lathey and Katie Shelby pose with Ohio Senator Bob Peterson during the Ohio CTE Showcase at the Statehouse on March 9th.