Wondering what our interns do throughout the year? Check out these articles written by the interns about their industry and classroom shadows, tours, classroom visits, and more!
---
Katherine Bell: Pettisville High School Agriscience Program
I did my internship shadow with Mr. John Poulson, a teacher at Pettisville high school. We started out the day with some SAE visits for students working at a retirement home on the grounds crew. Mr. Poulson showed me ways to make sure you hear about every student's project. During his visit he also reminded the students that they are supposed to be logging their hours through AET and he also brought an iPad along so all the students could sign in.
Our next stop was at Pettisville High School where he showed me their shop, the aquatic system, their greenhouse, and their classroom. He was able to answer a lot of my questions about officer teams, how to set a classroom up, and how to teach the students using the equipment they had. It was nice to see how he engaged the students in every aspect of the classroom.
After I got a tour of Pettisville High School, we visited Rufenacht Family Farm where Ohio State was also invited out. I know some about production agriculture, but I was amazed to see it on a family farm. I really appreciate the opportunity from them for getting to see how their farm operates.
My shadow finished with me getting to judge at Henry County 4-H skillathon judging. This is my home county, so I am used to seeing the judging set up as an exhibitor, but it was nice to see it from the other side. I helped with judging and got to meet other Agriscience Educators that Henry County had called in to help with it.
Overall I really enjoyed my time with Mr. Poulson. I got to see the average summer day in what agriscience educators do. It reminded me that this profession goes outside the classroom in many ways, and I'm excited to see where my journey goes.
---
Katherine Bell, Logan Heiby, Wyatt Jones, & Frances Nicol: Why Teach Ag?
Agriculture, the nation's largest employer with more than 22 million people working in some area. It's what you wear, what you eat, and what keeps the world working. Each day new innovations are being introduced to increase production and efficiency. Agriculture touches every aspect of your day whether you realize it or not. In order to maintain this level of efficiency, educators are needed to instill the knowledge necessary for this advancement to proceed.
Agricultural education teaches students about agriculture, food, and natural resources. Through these subjects, agricultural educators teach students a wide variety of skills, including science, math, communications, leadership, management, and technology. These areas of education prepare students for over 300 careers in the field of agriculture ranging from communications to engineering. Agricultural education offers this instruction through classroom, laboratory, and career development events. Educators do all this while making a noticeable, positive difference in each student's life.
When the students go off into the real world, their core agriscience classes follow them into whatever industry they decide to pursue. Whether they enter an agriculture-related career or not, the whole world needs education on where their food comes from and how agriculture plays an important role in their daily lives, and these students can informally educate people about what they have learned.
Agriscience education starts in the classroom with students. To some students, teachers can be their biggest role models. Teachers prepare the next generation of agriculturalists. These students truly are the future. They are the ones that will figure out how to feed a growing population. They will develop the best technology for farming methods. They will raise the best animals and learn the most efficient ways to raise and market their livestock. Teachers give them the tools to be successful and provide them with the base knowledge and passion to change the world and carry the future of agriculture.
---
Tania Burgos: Why Teach Ag?… From My  Perspective
Eugenio María de Hostos, a Puerto Rican educator, sociologist, and philosopher said "La agricultura es la espina dorsal de un pueblo" which translates to: "agriculture is the backbone of a country". Food is a human necessity and is provided by agriculture. As the world keeps changing and developing, the agriculture industry needs to keep evolving.
Last year I was at a conference about agriculture and higher education. The presentation of one of the speakers included topics related to traditional agriculture and the challenges agriculture faces today. The slide on his presentation that caught my attention said: "our challenge: people don't want to be educated". I asked to myself: is that true? Is that the reality we live in? I had to disagree with the statement from the presentation. Instead of people not wanting to be educated, I think the form people are being educated with needs an update. Agriscience education offers innumerous options to touch people lives and educate them. An important aspect of teaching agriculture is that students will learn by doing.
Agriscience educators have a social commitment and responsibility of preparing the future agriculturalists who will face agricultural challenges. Education is essential to the development of a person as a whole. As an agricultural educator you can have a positive influence and impact on others. Agriscience teachers provide an atmosphere for students to develop not only content knowledge, but leadership and confidence. You will be inspiring and transforming minds this way, guiding them to discover the ample opportunities that fall under the broad term of agriculture. Agriculture encompasses an immense amount of career fields, from engineering, animal science, production agriculture, economics, business and plant pathology, the opportunities are endless. In perspective, 17.3 million jobs were related to agriculture in total U.S. employment in 2014. There is a high demand in agricultural related jobs including agricultural education.
Agriculture has multiple benefits, economically, physically and mentally.  In Puerto Rico the economic crisis has had a direct impact on job opportunities and career decisions. Stories from educated people with different degrees are realizing the importance of agriculture. In Puerto Rico is becoming more common to see people with education in other careers moving to agriculture jobs or starting their own agricultural related businesses. For example, the 2012 Agriculture Census from Puerto Rico and Ohio shows an increase in agricultural products sold compared to 2007. Imagine the impact that a person could have had if they would experience a chance in agriculture. You can be the person in charge of firing up the interest of people for agriculture.
When I moved from Puerto Rico to Ohio to attend Ohio State University, my career plan was to work as a researcher or in the private industry. I had a rigorous plan of what steps I needed to follow to get a master's degree, a PhD, and in what subject I would look for jobs. While I was a teaching assistant for the introduction to soils laboratory, I discovered my passion for teaching. I noticed it was rewarding to share my knowledge and passion for agriculture and soils with others. Therefore I began to look for options where I was going to be able to share that passion. My unyielding desire to be an agriscience teacher is getting closer to become a reality. Ohio State gave me the opportunity to fulfill my desire to attend graduate school and get a degree in soil science. It also allowed me to discover my enthusiasm for education; therefore, I want to use my educational and personal background to promote agriculture in Ohio. What moves me to teach agriculture is the hands-on activities I will be able to do with the students, the growth shown by agriculture students, and to make a difference in other people's life.
Teaching agriculture contributes to a fundamental aspect of a country's economy. We need to support agriscience education programs because they are shaping our agricultural future. There is nothing more rewarding than the liberty you feel by working within nature and encouraging young minds to do the same. As an agriscience educator you will be providing a base for the students to become our future leaders. I will use this precious opportunity to impact others and have a rewarding and vivacious career…TEACH AG!
---
Kayla Walls: Why I will Teach Ag
A question I get often in regards to my career choice is, "Why teach ag?" I find this question to be extremely difficult to answer and therefore, I usually choose to say, "Why not?"
Growing up in a small town on a quantity grain farm, I have been involved with agriculture for as long as I can remember. However, my main role on the farm dealt with the animals—I showed quarter horses at the local and state levels for over twelve years and was responsible for caring for the horses, steers, hogs, dog, and cats. My love for animals sparked my initial interest in being a veterinarian. For the next few years, my thoughts about potential careers drifted anywhere from cardiology to agribusiness. It was not until high school when I found out that I wanted to be an ag teacher.
My older sister first introduced me to FFA. As she made her way through different career development events and worked tirelessly on her supervised agricultural experience, I knew that I wanted to be to be a member of the Parkway FFA Chapter. Upon meeting my teacher, Mr. Post, at FFA Camp before my freshman year, I was intimidated. Little did I know on the first day of school that ag class would soon be my favorite part of the day and Mr. Post would become one of my biggest role models.
A year later I asked Mr. Post, "Can I be you when I grow up?" From then on, he has always encouraged my efforts of becoming an ag teacher. The session before I received my State FFA Degree my Junior year, the speaker mentioned the need for agriscience educators. During that whole segment, Mr. Post smiled at me and said, "Kayla, are you listening?" Nowadays, Mr. Post often sends me links dealing with the nationwide shortage of agriscience educators or inspirational videos like "So God Made an Ag Teacher." Knowing that I have the support of my own teacher helps me in preparation for my future career. I realize that whenever I get myself into a bind I will always have him to calm me down because he has, in his own words, "been there, done that."
I want to be an ag teacher for countless reasons, but mainly because I want to positively influence students' lives, just as Mr. Post influenced mine. He pushed me out of my comfort zone, made me think for myself, and I want to be my students' cheerleader, coach, and chaperone; but most importantly, I want to be the person that they look up to. Ag teachers get to mold and maximize the potential of their students. For all of the aforementioned reasons and many more, I want to teach ag.
"So God Made an Ag Teacher": https://www.youtube.com/watch?v=Xn5SNz2FHEg
---
Wyatt Jones: JD Equipment
I spent Monday, August 25, 2016 at John Deere Equipment Inc. in Washington Court House, Ohio. JD Equipment has a team of roughly 30 employees total at the Washington Court House store; the positions include managers, salesmen, lead mechanics, new mechanics, computer technicians, book keepers, and machine washers. There are three JD locations in the state of Ohio, but the Washington Court House branch is the largest. The dealership handles every piece of John Deere equipment from push mowers to combines.
I was lucky to spend my day with Dusty Trefz, a travel technician for JD Equipment. The shop has five of these traveling mechanics, and these are the best repair men that JD has to offer customers. Their duties require them to know how every piece of machinery runs, and how to repair it. They must be personable as they are the face that the majority of customers see on their farms. Travel techs also must be responsible, as they work alone at their own pace for the most part.
Dusty and I began the day taking a tour through the plant where I was able to meet the plant manager and many others who play major roles in the work that is done at JD. Once we received our work orders for the day we hit the road. I was able to get my hands dirty changing some bearings on a combine and a drive shaft on one of the larger models of tractor. We ended our day by delivering a few pieces of equipment.
Although these repairs were all new experiences for me, the topics Dusty and I discussed were the best part of the day. We discussed difficulties in the ag industry, and how technology is constantly enhancing precision agriculture. I was able to learn about a program that JD supports that places two students a year through a mechanic school; once the student works for JD for four years after the completion of the program the company pays for the mechanics schooling. However, if the student fails to stay employed at JD the contract is terminated and the bill becomes the students.
Overall this was a great experience for me as a preservice educator to meet many new faces in the ag industry. Also learning more about options for students after they graduate was very beneficial. I believe as agricultural educators we have to understand that every student we have will be different, and in this way they may chose different career paths. Building these connections that will help me benefit the lives of my students and their careers later on was exponentially great for me.
---
Kayla Walls: Burtch Seed Company
On Thursday, August 4 I got the opportunity to visit Burtch Seed Company for an industry shadow. Burtch Seed is a family owned seed production facility located in Celina, Ohio. Since starting in 1979, Burtch Seed has grown its business in Ohio, Indiana, and Michigan.
I started off my morning by driving to the main office. There, I met co-operators of Burtch Seed, Mike Burtch and his brother, Ed. I met Mike's wife, Melissa, who does all of the office work. I also met Nick Hayes, the lead agronomist at Burtch Seed. We went over the agenda for the day and set off in one of the Burtch Seed trucks.
We first traveled to Continental, Ohio where we visited Lynn. On the way to Lynn's house, Mike and Nick prepared me for the objective of the day: to get Lynn to agree to buying next year's seed from Burtch Seed. Lynn owns around a fair amount of acres around Continental but also does custom farming for numerous other people. At Lynn's house was Jeff Krieger, a Syngenta sales representative who works all throughout western Ohio. Jeff would aid us in persuading Lynn to once again buy his seed from Burtch's.
After introducing myself and making a few rounds of small talk, we all hopped into the Burtch Seed truck and set out to scout a few of Lynn's corn fields. The first field we stopped by was just a mile away from Lynn's house. We all got out of the truck and made our way through the field until we got past the end rows. From there, Jeff started pacing off seventeen and a half feet and Mike started counting how many corn stalks were within that distance to find the population. When finished, he would shout it out to Nick who would then input the information into his iPad. Next, we picked three random ears within that seventeen and a half feet area, husked them, and counted how many kernels were around the ear and how many kernels long the ear was. After telling Nick our results, we discussed the growing conditions for the year: good, average, or poor. We decided to call the conditions "good" since Continental has gotten more rainfall than usual this year. Nick inputted the corn variety and pressed "Yield Prediction" on his iPad. Just like that we had an estimate on how the field would yield per acre. Lynn was happy with the results, seeing as it is usually his best yielding field overall. Finally, since it was such a good looking field, we stuck a sign in it and moved onto the next field.
We had several other stops that morning with Lynn and Jeff. It was fascinating how knowledgeable Jeff was on every variety of corn that Lynn used. It was obvious that Jeff had a fantastic memory, asking both personal and professional questions. Jeff, a successful salesperson of over twenty years, taught me several tips on being great in sales in the only day that we were together.
At the end of our time with Lynn, we ate lunch at a small restaurant in Continental. There, Lynn agreed to buy his seed next year from Burtch Seed. The men told me how important it was to keep everything casual because it is easier on the client and the businessperson alike. We soon said goodbye to Lynn and drove to Van Wert, Ohio to meet our next client.
Brock Proffitt farms alongside his father and brother at Proffitt Brothers Farm. When we pulled up, Brock and company were working on ditching and retiling the field that surrounds their farm. After introductions, Brock got on the topic of online farm management programs. Brock explained that the farm was starting to input their information into Granular, a brand new online farm management program. Some of the nice features include: yield predictions based on growing year, updated grain prices, and maps of each farm. It is a fairly expensive program that is just starting out and Brock stands as one of the testimonials.
Later, we got back into the truck and scouted fields once again. Nick explained how Brock's fields would look much better than Lynn's because of the better soil quality and growing conditions. On average, Brock's fields yielded around thirty bushel per acre better than Lynn's. After signing a few of the better looking fields, we dropped Brock off at his farm, said goodbye to Jeff, and headed back to Burtch Seed.
To end the day, we spent time back in the office of Burtch Seed. I met more office workers and then thanked Mike and Nick for a great day. I was glad to have spent the day learning a different side of the industry, as I usually tag along with my dad who is the farmer that companies come visit. I learned a great deal and am very appreciative of the experience.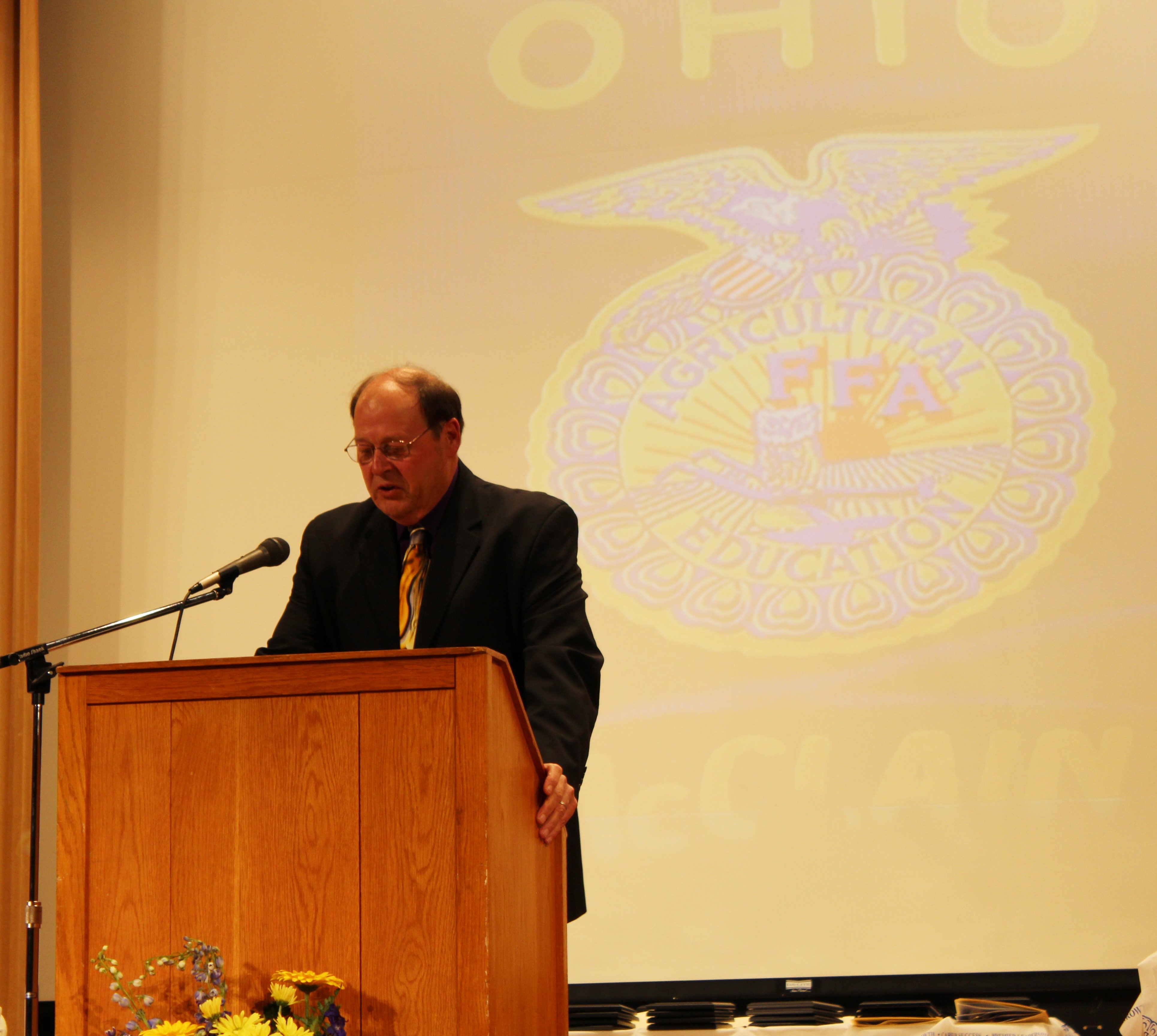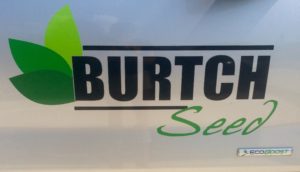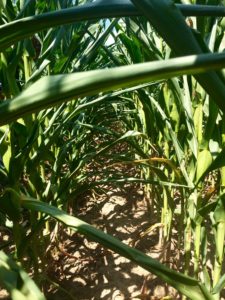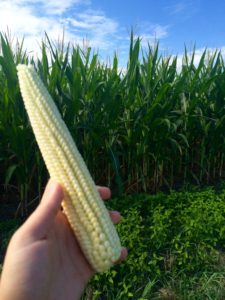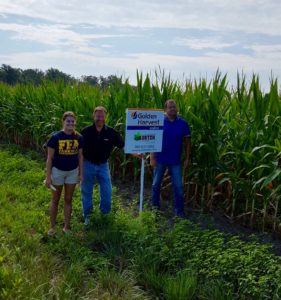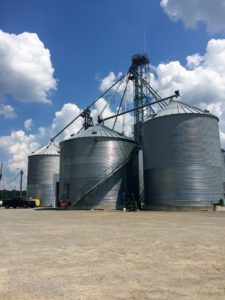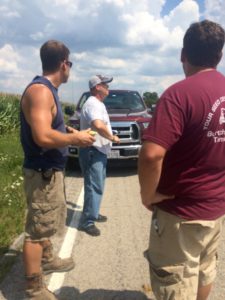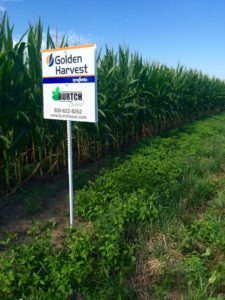 (Captions left to right, top row to bottom row.)
Figure 1. Burtch Seed Facility located in Celina, Ohio.
Figure 2. Burtch Seed logo on truck.
Figure 3. Inside view of scouting Lynn's fields in Continental, Ohio.
Figure 4. Outside view of scouting Lynn's fields.
Figure 5. Lynn, Jeff, and I posing with a Golden Harvest sign outside Lynn's best corn field.
Figure 6. Proffitt Brothers Farms located in Van Wert, Ohio.
Figure 7. Brock Proffitt, Mike Burtch, and Nick Hayes discussing the yield on Brock's corn field.
Figure 8. Golden Harvest sign on the outside of Brock Proffitt's corn field.
---
Frances Nicol: Scheiderer Farms Greenhouse 
This June, I had the opportunity to visit with Candi Scheiderer, Co-Owner of Scheiderer Farms Greenhouse in Marysville, Ohio.  The greenhouse has been owned and maintained by Keith and Candi Scheiderer for 15 years. It rests on old dairy farm and still operating grain farm that has been in the family for over 100 years.
At the greenhouse, they are open from Spring to early Fall, selling perennials, annuals, hanging baskets, and vegetable plants. Keith and Candi are proud of their flourishing business and work hard to maintain a good reputation of quality plants, which is hard to find in the world of horticulture. In addition to selling plants, Keith and Candi hold several classes throughout the season to assist their customers in landscaping, planting techniques, using fertilizers, planting in pots, etc. Also, you can see their hanging baskets around town as they provide them on the main street and at the county fair, always making sure they are plentiful!
While at the greenhouse, I followed Candi around as she watered plants, deadheaded flowers, and adjusted flower arrangements, all while answering customer questions and helping them in the check-out line. I saw her connect with her customers and give them true advice.
Candi was also able to give me some horticulture and business tips that I can use in my classroom. While Keith has a degree in Agronomy, Candi was a nurse for several years and learned everything she knows by doing. I think that is very admirable and inspiring as a future teacher that I can still help my students without having a plethora of knowledge about the topic. It was great to see a family business be so successful our community.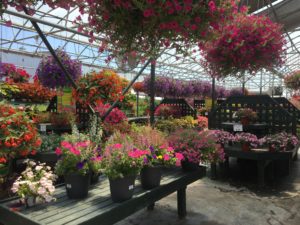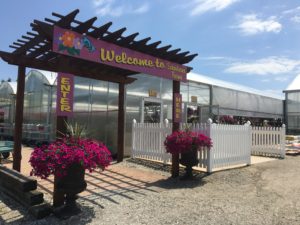 ---
Tania Burgos: Ohio Department of Agriculture- Ohio Plant Diagnostic Laboratory
As part of the agriscience internship experience I was able to spend a day shadowing the C. Wayne Ellet Plant and Pest Diagnostic Clinic. The diagnostic clinic provides services and support for plant disease diagnostic and insect identification. The general public and commercial businesses can send their plants samples to the clinic and experts in the area will use different techniques and technology to solve the issue. The mission of the clinic is "The C. Wayne Ellett Plant and Pest Diagnostic Clinic at The Ohio State University provides diagnostic services and support for plant and pest related problems and incorporates research, education and outreach to citizens, agricultural/green industries, businesses, and government entities while ensuring our nation's agricultural security through partnership in the National Plant Diagnostic Network."
During the morning I toured the Ohio Department of Agriculture facilities, the diagnostic clinic and met everyone that works in the diagnostic clinic. David McCann, program administrator and plant pathologist at the Ohio Department of Agriculture, explained how he is in charge of doing plant disease surveys for the state. He is collecting soil samples across the state to test for the presence of Phytophthora ramorum, an oomycete that cause sudden oak death. Another disease of great importance is Boxwood blight cause by Cylindrocladium buxicola a fungi.
I also shadowed the clinic summer interns. These interns are getting a professional experience in the field of plant pathology. I saw the process of receiving plant samples and the first steps that are taken to identify the problem with the plant. Nancy Taylor the program director of the diagnostic clinic is an experienced diagnostician. She gave me information about how the clinic works, its importance and how they can help the community with the job they are doing. This was an excellent experience and opportunity to observe how Ohio State University is working along with the Ohio Department of Agriculture to solve issues of national importance.
Figure 1. Tania Burgos visiting the Ohio Plant Diagnostic Clinic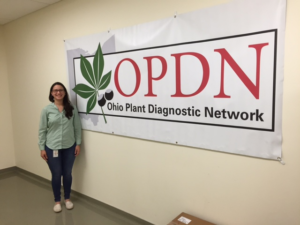 Figure 2: Diagnostic clinic intern explaining steps to follow once you receive the plant samples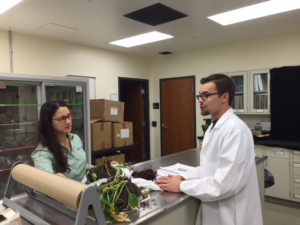 Figure 3: David McCann, program administrator and plant pathologist at the Ohio Department of Agriculture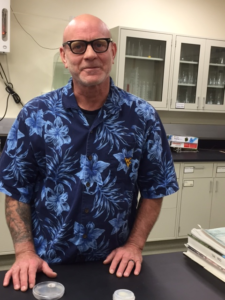 Figure 4: Nancy Taylor,program director of the diagnostic clinic