Meet the 2016-17 Agriscience Interns!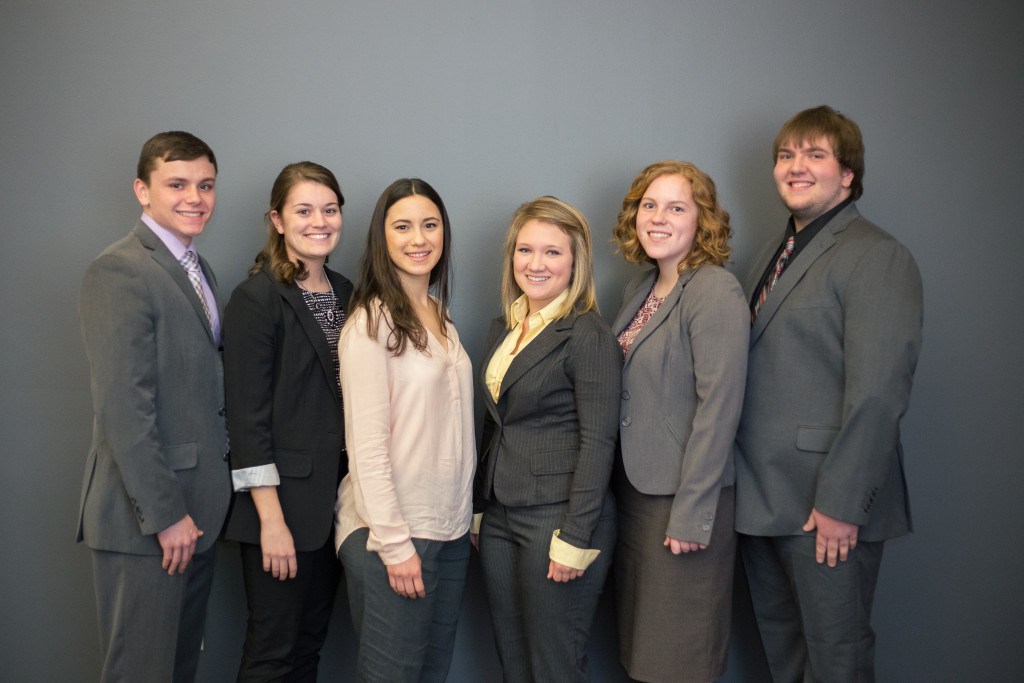 Agriscience Interns:
Wyatt, Kayla, Tania, Katherine, Frances, Logan
Katherine Bell – kbell@ohioffa.org
Katherine Bell is a third year student at The Ohio State University. She spent two years at OSU ATI and just transferred to Columbus in the fall of 2016. Katherine graduated from Liberty Center high school were she was actively involved in the FFA program. During college, Katherine has been a Resident Advisor as well as actively involved in Community Council. Katherine wants to get involved with teaching agriculture because she wants to give back to the organization that gave her many opportunities.


Tania Burgos – tburgos@ohioffa.org
Tania D. Burgos Hernandez is a graduate of Colegio Santa Rosa Superior and is originally from Bayamon, Puerto Rico. Since Tania has no background with the National FFA Organization, the Agriscience Internship is an exciting learning experience for her. She currently attends The Ohio State University School of Environment and Natural Resources where she is working on obtaining her Ph.D. in soil science. Upon completion, Tania wants to teach agriculture in an Ohio high school and loves that agriscience education is a hands-on career where students have the opportunity to practice what they learn.

Logan Heiby – lheiby@ohioffa.org
Logan Heiby is currently a third year student at The Ohio State University. He is from Coldwater, Ohio and was an FFA member of the Coldwater Tri-Star FFA Chapter for four years. He is now studying Agriscience Education and is involved in Agricultural Education Society. He wants to be an Agriscience Teacher because he loves teaching about agriculture, and he also wants to help guide students just as his FFA Advisors did for him.

Wyatt Jones – wjones@ohioffa.org
Wyatt Jones was a 2015 graduate of McClain High School in Greenfield, Ohio. He is currently finishing his second year as a student at The Ohio State University – Columbus campus. Wyatt is an active member of Saddle and Sirloin, a student organization devoted to promoting livestock and meat industries on campus, Ag Ed Society, an organization comprised of future agriscience educators, and will be a Resident Advisor during the 2016-2017 academic year. His passion for agriculture and sharing it with others has encouraged him to pursue a career in agriscience education. Wyatt hopes to foster the potential of students who will be future leaders of the agricultural industry.


Frances Nicol – fnicol@ohioffa.org
Frances Nicol is a third year at The Ohio State University from Plain City, Ohio, studying Agriscience Education. At Ohio State, she is heavily involved in several student organizations such as Agricultural Education Society, Agriculture Communicators of Tomorrow, and Buckeye Dairy Club. Her passion for teaching agriculture comes from her experience in FFA and classroom activities with her Ag Ed instructor and she hopes to instill that same love for agriculture to her students in her own classroom.

Kayla Walls – kwalls@ohioffa.org
Kayla Walls is a graduate of Parkway High School from Mendon, Ohio. As a second year student at The Ohio State University studying Agriscience Education, she is involved in Agricultural Education Society, Alpha Zeta Partnership, Romophos Honorary, and Saddle & Sirloin Club. Kayla also is a member of the CFAES Learning Community and the STEP Program. Her passion for agriculture comes from growing up on a grain farm in Midwest Ohio and being actively involved with FFA and 4-H. In her future career as an agriscience instructor, she looks forward to positively influencing the future generations of the agricultural industry.